Red Beans and Rice is a traditional Monday lunch in New Orleans so if you get cracking you can have it ready in time. I adapted mine from the version Chef Paul Prudhomme placed in his
Chef Paul Prudhomme's Louisiana Kitchen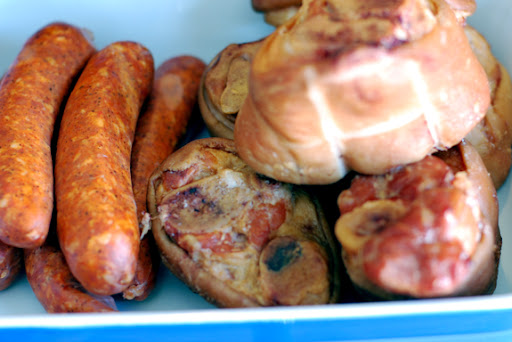 Andouille sausage and ham hocks.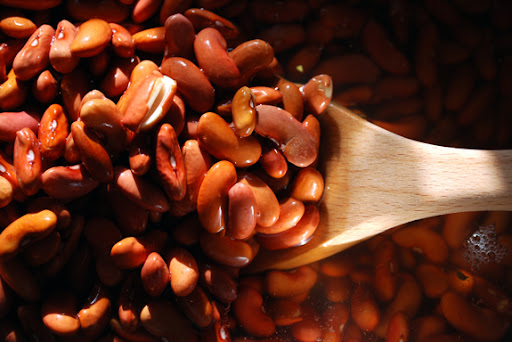 Red Kidney Beans, soaked overnight.


Cayenne, thyme, oregano, garlic and a pepper blend. My main variations are pictured at the bottom of this photo. I used a blend of ground peppercorns instead of just white and I used 6 cloves of fresh garlic instead of the garlic powder called for by Chef Paul.
Onions, bay leaves, green pepper, celery, and of course, hot sauce. It should surprise no one that I focused on the hot sauce.
Squeezing
almost
all the ingredients into one shot. I was playing with a new fast (f/1.4) 50 mm lens in these shots.
Ingredients:
1 pound dry red kidney beans soaked overnight
*
6 ham hocks
1 pound andouille sausage, sliced on the bias
2 1/2 cups chopped celery
2 cups chopped onions
2 cups chopped green bell pepper
5 bay leaves
2 tsp. blended peppercorns
2 tsp. dried thyme
5-6 minced cloves of garlic
1 1/2 tsp. dry oregano
1+ tsp. cayenne pepper
1/2 tsp black pepper
2 tsp. Worcestershire sauce
Louisiana style hot sauce to taste
What you gotta do:
Saute all the vegetables and the seasonings in olive oil in a BIG Dutch Oven until onions start to turn clear.
Add ham hocks and 10 cups of water to Dutch Oven and bring to a boil. Reduce heat and simmer covered until ham hock meat is fork tender (about an hour, test it).
Remove ham hocks and add the soaked beans with 3 additional cups of water. Bring the pot back to a boil and then gently simmer with the lid on tight for 2 hours.
*
At this point the cooking time still remaining really depends on how fresh your dried beans are. If people don't eat a lot of beans where you live and the beans you buy are old it can take several more hours. If in doubt I'd recommend precooking the beans overnight in a crock pot. Adjust cooking time accordingly.
Stirring the beans every now and then is a good idea, particularly if you are not using a very heavy pot.
Once the beans are beginning to be soft (not mealy but not yet mushy) throughout add the andouille sausage and put the cover back on the DO.
Cook for another 35-45 minutes and start testing for bean "doneness" and if you need to adjust water level or seasoning. Once everything is getting close use a boning knife to remove any ham from the ham hocks and add that to the DO.
I used a hand blender to puree some of the beans to get a thicker consistency.
Serve with rice, ( I like a pilaf style rather than just steamed white) cornbread, hot sauce and if you are at lunch on a working Monday at least 3 beers.
I used an older Lodge #12 9 quart Dutch Oven. A 7 quart might work but anything smaller would have been too small.
Alternate money shot - I like them both so you get both.
I hope you'll make this and let me know how you liked it.