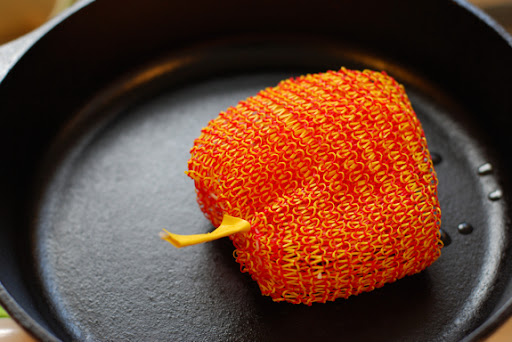 You make cleanup time lots of fun,
Orange Scrubby, I'm awfully fond of you...
OK, maybe it isn't fun but this woven plastic scrubby thang is by far my favorite tool for cleaning up cast iron cookware. They scour off any stuck on bits without stripping the iron of seasoning or removing all the oil used during cooking.
I simply scrub (as little as possible) while holding the piece under the hottest tap water. Wipe with a towel and set the piece in a warm oven to finish drying. Cleaning up couldn't be easier and my iron cookware is thriving with this treatment.
For a more comprehensive look at washing cast iron cookware >
Lookee Here
Upcoming: We are off to Memphis and then parts of Mississippi and Louisiana for a quick vacation. Look for posts related to barbecue, blues, history and more coming soon.