So I've heated up the Weber Kettle and I'm brushing down the hot grill when I hear a "SNAP" from 30 yards away. This big guy has wandered onto my property and is feasting on my Gambel Oaks.
I was really glad I wasn't about to cook moose burgers as this guy could do some damage if he felt like it.
Today we were having some 85/15 Grass Fed ground beef from a local ranch. Lately I've been craving a blue cheese bacon burger so this was to be the delivery vehicle.
Rolls, condiments, and Neuske's bacon were all prepped and ready to go. The blue cheese was stuffed into the burger like I've seen on fine blogs like
this
and
this
.
Not being satisfied with the internal cheese holding capacity of these jumbo burgers (the funny looking one is for my Malamute) I added more cheese and Neuske's after the flip.
The burgers slid back and forth over the coals and then to a cooler part of the grill to cook more slowly.
Some fresh corn and tomato salad (with black beans, onions, jalapenos, lime juice and bacon) was made ready.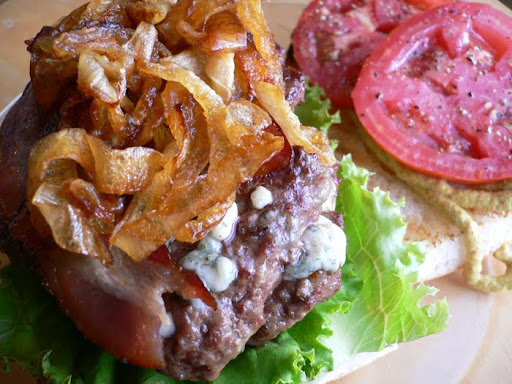 The burgers were built and then Mr. Moose decided to leave. I guess he was offended that I didn't offer him one.